Incomedia has released a new version of the popular homepage / web design software WebSite X5. The new version WebSite X5 2023.1 also brings exciting innovations.
What is WebSite X5?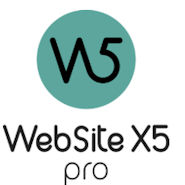 If someone does not know WebSite X5 yet: The software makes it possible to create simple to very complicated homepages elegantly and comfortably, without necessarily programming knowledge in HTML or CSS necessary, even if you can bring them in if necessary. WebSite X5 offers an enormous range of functions with many expansion options, but always remains clear and easy to use.
In addition, the complete creation of a homepage usually takes place completely offline on your own computer and WebSite X5 takes care of the transfer to the server when the page is completed.
WebSite X5 can not only create "normal" websites, but also offers the possibility to create very large online stores, also with the possibility of selling digital products.
In short: a great program for creating homepages and online shops, which I appreciate very much.
WebSite X5 updates 4 times a year and every update makes this powerful website creation tool even better.
What version WebSite X5 2023.1 offers
The user interface of WebSite X5 shines in new splendor. In the new version 2023.1 style, WebSite X5 has been adapted by the developers to the logic of Windows 11, with the aim of creating a familiar environment. In addition, the colours, shapes, textures and layout of WebSite X5 have been revised, so that the user can expect an even better thought-out and, above all, visually appealing interface.
The optics play an important role insofar as it is even more fun to work with a well-designed program.
Galleries: here you can look forward to the fact that photos and videos taken in a gallery are now provided with a thumbnail preview. A picture says more than just text. In addition, you can now also set a title and alt text for these images, which pays off for search engine optimization.
Making changes via the browser – a very practical innovation. From now on, you can immediately start a revision of text via an edit button when previewing in the web browser. Fewer clicks and faster to the goal.
Online shops: Here you can now set a minimum order quantity for each product that you list in your online shop. Practical, if such a minimum order quantity makes economic sense. This new feature is only available in WebSite X5 Pro, but especially if you want to create an online shop, the Pro version would be the version you should choose anyway, since the range of functions is much larger around online shops.
Updated templates: Here 10 templates of the Edition Pro and 5 of the Edition Evo have been replaced by new ones, so you can look forward to updated and modernized templates.
PHP 8.2 support – WebSite X5 now supports servers running PHP v8.2.
If you already own WebSite X5, you can get the update free of charge, as long as you still have an active up-to-dateness guarantee. If not, you can of course get an upgrade at a special price.
WebSite X5 – each license can be used indefinitely
In general: WebSite X5 is not subscription software and each purchased license can be used indefinitely. However, there is an up-to-dateness guarantee, with which you can always update to the latest version.
When buying a new license, 12 months of up-to-dateness guarantee are included, after expiry of this you can extend for another 12 months at a special price. But you can also continue to work with the stand, because you have, indefinitely.
More information about WebSite X5 can be found here at Incomedia