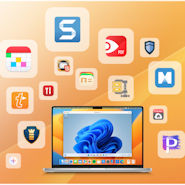 New Parallels Desktop offer with a real Mega Bundle. The new Parallels Desktop bundle includes 14 free bonuses in the form of interesting and useful software for the mac in addition to the well-known virtualization software for the Mac. According to Parallels, the Parallels Desktop Bundle is the most comprehensive bundle ever offered with Parallels Desktop. Fans of virtualization software will know that Parallels Desktop is bundled from time to time in combination with numerous free programs. And now it's time again for another great Parallels Desktop Bundle.
Parallels Desktop as a reliable, powerful and mature virtualization software for the Mac hardly needs to be presented and explained and is worth the purchase in itself. But even nicer if you get some encores in the bundle next to Parallels Desktop, 14 in number. Here they are:
With the Parallels Desktop offer, the following 14 Mac applications are bundled for free:
Snagit 2023 – (worth 60.19 euros) – A screenshot – software for recording, processing and exchange
Fantastical – (worth 23 euros) – the award-winning calendar and tasks app for Mac
PDF Expert – (worth 84,99 Euro) – PDF editor for iPhone, iPad and Mac
MindManager Essentials – (value: 117,81 Euro – The well-known and really very good mind mapping software – flowcharts, concept maps, timelines and diagrams
Painter – (worth 225 Euro) – The professional and well-known, excellent software for digital drawing and painting. Premium Software!
Text Expander – (worth 42.62 euros) – A text tool designed to significantly speed up the writing of e-mail and other texts.
Intego Mac Premium Bundle X9 – (value: 84.99 Euro) – An antivirus & internet security software for the Mac
WinZip for MacPro – (value: 65,94 Euro) – The well-known classic Software
Hype 4.1 Professional – (worth 112 euros) – software for creating animations and interactive content for the web
Parallels Toolbox – (24.99 Euro) – Over 40 Useful Tools for Mac
Cardhop – (worth 23 euros) – A tool for organizing contacts
AdRemover – (worth 39.99 Euro) – An ad blocker
Fantastical Scheduling – (worth 23 euros) – A scheduling tool for appointments and meetings for Mac, iPhone and iPad.
Parallels Access – (worth 18 Euro) – The well-known remote access software for Mac & Windows apps
Wow, that's really a great fantastic bundle and Parallels Desktop itself is of course also available and included. The bundle would be worthwhile even if you don't need Parallels Desktop itself. MindManager, WinZip and Painter alone would be worth it.
The Parallels Desktop Bundle is  available for only 99 euros (upgrade: 69 euros) and is certainly worth every euro. Even if you don't need all programs for the Parallels Desktop Bundle, MindManager, Painter and WinZip are already worthwhile, but the other programs also look very promising. With the Parallels Desktop Bundle, you can just strike.
All information about the Parallels Desktop Bundle with 14 free programs with a total value (according to Parallels) of 946 euros can be found here
The Parallels Desktop Bundle Offer is valid until February 28, 2023