WebSite X5 Spring Offer: The homepage and web design software WebSite X5 is currently available with a 35% discount. The offer is valid for both the slightly smaller version WebSite X5 Evo and the large version WebSite X5 Pro. Thanks to the 35% discount on the WebSite X5 you get both variants very cheap.
Both packages include 12 months of web hosting including domain, web space and e-mail addresses. Subsequently, this package would cost only 47.88 euros a year. But you can also choose any other hosting package of your choice with any provider, maybe you already have a WebHosting package.
WebSite X5: A good choice if you want to create a website or an online shop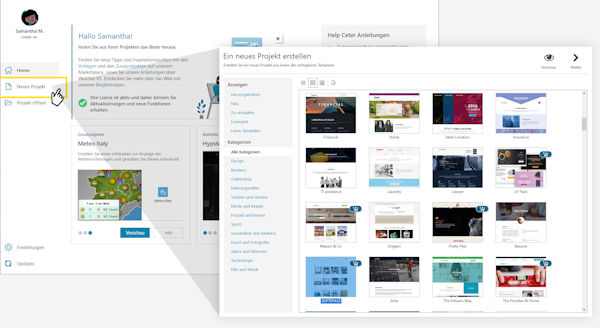 WebSite X5 is a very successful software that makes it easy to create your own website, whether professional or private, or even an online shop with your own resources and without having to have programming knowledge. The web design software combines simplicity in operation on the one hand with a variety of possibilities in a very intuitive way. The homepage software also allows you to create simple small websites up to very complex websites.
All this can be discovered and implemented in a relaxed way, because everything happens offline and only when you are satisfied, you upload the finished page to your own hosting solution. Ideal from the small family page, the club page, also with member access, the business page to the complex online shop, also for digital offers.
The online shops created with WebSite X5 offer extensive features, from exciting product pages, customer management to the connection of payment platforms.
WebSite X5 allows users to create a homepage largely by drag & drop on a grid layout-based concept without programming knowledge. This also in a modern way, so that your own website is optimally displayed on every device. Programming skills are not necessary, but if you like, you can bring them in.
A wealth of possibilities for individual websites
WebSite X5 offers a wealth of possibilities and modules or objects. So you can integrate exciting photo galleries as well as extensive forms and also videos and social media platforms can be integrated, as well as Google Maps and much more.
Despite the extensive possibilities, the creation can always be done in such a way that anyone with a little will can implement it without the support of third parties or greater prior knowledge. The logically organized structure of the program, which leads through the design process in a very structured way, also contributes to this.
WebSite X5 is not a subscription software, but with a worthwhile guarantee of timeliness
WebSite X5 is not a subscription software, so you can use any purchased license indefinitely. One license can be used on two end devices, for example home office PC and a notebook.
However, WebSite X5 offers an up-to-dateness guarantee, with which you will receive an update with new functions over 12 months, usually four times a year. When buying a new license, 12 months are included, then you can extend this warranty for a fee at a special price. However, this is not a prerequisite for continuing to use a WebSite X5 license once purchased.
So it's worth taking advantage of WebSite X5's up-to-dateness guarantee, because there are always exciting improvements, in addition to the latest improvements in the first quarter of 2023.
WebSite X5 – recommended software for creating homepages and online stores – now with 35% discount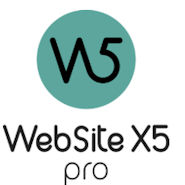 However, it is especially worthwhile to use WebSite X5 in general, because the software offers everyone the possibility to create a successful website from the simple to the complex website in a simple and structured way. Without outside help and without programming knowledge and currently you can buy this wonderful program for creating homepages and online shops also very cheap, with 35% discount.
WebSite X5 Evo now already for 58,46 Euro instead of 89,95 Euro
WebSite X5 Pro now already for 129,97 Euro instead of 195,95 Euro
Offer runs until May 31, 2023