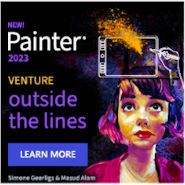 The Painter Black Friday offer with 50% discount saves you no less than 50% from today. Difficult to imagen, that you could get it any cheaper, because here you have a really extremely good offer. After all, you can now get the excellent program for digital painting and drawing for half the price. For example, you save no less than 215 euros on the one-time purchase version. But the subscription version is also on sale at 50%. You can get this for one year for only 109 instead of 225 euros.
Whether it's a one-time purchase or an annual plan, in both cases you get the Creative Painting Tool Master Kit with over 100 expressive painting tools free of charge.
A perfect offer in any case, whether a one-time purchase or an annual plan, for all those who appreciate digital painting and drawing. Painter is suitable for use as a private hobby for all those who like to paint and draw as well as for professional use. The Painter offer is the large version of Painter with all drawing tools, brushes, colors, etc.
The Painter offer appeals to both the newcomer to the topic of digital painting and drawing with Painter as well as all those who have already gained experience with the wonderful topic of digital painting and drawing.
Painter Black Friday Deal – The Digital Drawing Reference Program
Painter is considered the reference program for natural drawing and sketching. The program simulates in superior quality, which is certainly not an exaggeration, a wide variety of painting backgrounds as well as over 900 brushes and other painting tools.
Painter 2023 is therefore the program for everyone, whether as a hobby or in the creative profession that is passionate about natural painting, drawing and sketching. Whether landscapes, cartoons & manga or even design drafts for products, Painter offers a wide range of functions and possibilities for all this, optimally implemented in combination with a pen, of course.
Here are the most important new features in Corel Painter 2023
The new Fluid Paint technology allows you to gently build, blend, sculpt, glaze, add texture and reflective light, and enjoy unmatched opacity control and smoothness in every brushstroke.
More intuitive selection workflow with improved visibility of selected areas
A color overlay option has been added to the selection tools to improve the visibility of selected areas.
Improved keyboard shortcuts to switch from addition or subtractive selection mode.
Select areas based on color with brushes – Magic wand and the versatility of a selection brush combine to quickly select parts of an image based on color.
User-requested improvements in Corel Painter 2023
Painter Black Friday Deal For Those Who Love Digital Art
For those who have the talent or want to learn how to draw and paint digitally, Painter offers the optimal tool for photorealistic artwork when painting on digital devices with its excellent realistic artist materials and digital art painting tools.
The really fantastic 50% off Black Friday offer for Painter 2023 plus free extra package is available here