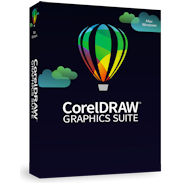 Corel is now offering CorelDRAW with 25% off as part of the first Corel Black Friday deals. This gives CorelDRAW Graphics Suite 2022 with annual plan at the moment for only 277 instead of 369 euros, so a considerable price savings.
Alternatively, CorelDRAW 2021 is also available as an unlimited version with a 15% discount for 649 euros instead of 779 euros. The subscription version not only includes the newer version, but you also get ongoing updates and extended functions, such as collaboration.
CorelDRAW – comprehensive graphics software
CorelDRAW is a comprehensive graphics software for vector illustration, layout and image editing. Perfect for designing logos, flyers, brochures and many other creative elements. Just a program for graphic artists and designers, whether ambitious hobby users or from the professional sector from construction to marketing companies.
The current version CorelDRAW 2021 has received some exciting new design and creativity features, such as the Perspective Drawing function, handy when designing product packs and much more.
Included with CorelDRAW are:
CorelDRAW
Corel PHOTO-PAINT
The CorelDRAW.app for anywhere access to projects
Corel Font Manager
CAPTURE
PowerTRACE™ (AI-powered vectorization of bitmaps)
AfterShot HDR
as well as many clipart, photos, fonts, templates and more
The CorelDRAW offer with up to 25% discount is available here at Corel, valid until November 14, 2022