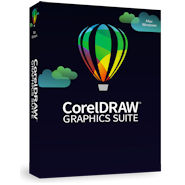 Alludo, the new name of the parent company of Corel Corp., has provided a new update of its graphics suite CorelDRAW Graphics Suite for subscribers. The new update brings new features and accelerated workflows.
CorelDRAW is generally available as a one-time purchase and as a subscription version. The subscription version includes additional functions, especially for cooperation with customers or teammates, but also benefits from frequent function updates in between.
CorelDRAW is a complete solution for vector illustration, layout, image editing, typography, and real-time collaboration. The new update should enable designers to implement their ideas faster with impressive results.
The update brings design templates, training projects, a tool for better scaling of objects and an optimized export process and customer wishes have been implemented.
What's new in the new CorelDRAW Graphics Suite subscription updates:
Creative design templates and training projects: There are a variety of new design templates and training projects here. These help and support users to increase their creativity and improve their own skills in graphic design.
Scale Tool: A new tool with complete flexibility and precision for scaling objects.
Improved export workflow: The export workflow has been simplified to achieve optimal results even faster.
User-requested improvements: Subscribers now benefit from support for the WebP file format, a redesigned New Document dialog box, and performance improvements, among other things. This innovation is based on the wishes of users collected directly in the CorelDRAW Ideas Portal.
The CorelDRAW Graphics Suite subscription offers a more flexible way to stay up-to-date with access to exclusive new features, content and optimizations, and support for the latest technologies.
If you are interested in the CorelDRAW subscription version or alternatively in the CorelDRAW version with a one-time purchase, you can find more information here at Corel.
Also interesting: CorelDRAW Academy
With the new CorelDRAW Academy, there is an e-learning resource that helps CorelDRAW Graphics Suite subscribers develop their own knowledge and skills in graphic design so that they can fully develop their creative potential.
Developed by creative professionals, CorelDRAW Academy is free to use by all customers with a subscription or maintenance plan. It offers stimulating and easy-to-understand modular training courses that focus on realistic scenarios. This provides users with additional assistance in the implementation of everyday design projects and new techniques.