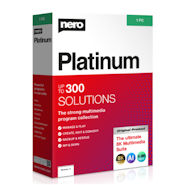 The new version of Nero Platinum Suite 2024 offers new creative possibilities for users who want improved video and photo editing. The manufacturer mentions 15 feature updates, the most important of which I have compiled here in the article. In addition to new features and enhancements to existing programs, there are of course also many small details for improvement and bug fixes.
The Nero Platinum Suite includes the well-known Nero Burning ROM at its core, but has included a wide set of tools for audio, photo and video editing for many years, plus some system tools and a backup program. Therefore, Nero Platinum Suite 2024 is still a burning software, but above all a full-blown multimedia suite. The program is characterized by a comparatively simple operation and is therefore the ideal software for all those who simply want to have fun and enjoy creative work on the computer, but do not want to be slowed down by too complicated programs.
Nero Platinum Suite 2024 – the new features
Nero Burning ROM now allows you to rip (old) *.nrg files to audio formats such as MP3, AAC, or FLAC.
The new Nero Screen Screen Recorder enables one-click screen recording with up to 4K quality, including audio recording. Nero Screen Recorder supports system audio and audio via microphone. Ideal program for tutorials, presentations and more. The program can record a full screen or a section of the desktop, a specific program window.
Nero AI Image Upscaler is now optionally (not necessarily) connected to the Nero Online AI with data center in Germany due to the online engine mode in order to relieve your own hardware and use the possibilities online. Likewise, there are now new Pro features with more upscale models to choose from, such as a portrait mode. The .webp format is now also supported, jpg, jpeg, png, bmp and more are still supported. The user can now also set the preferred AI upscaling model as a default, which saves time.
The Nero Motion Tracker is now standalone to reduce hardware usage on your own PC and now also offers automatic face tracking, if desired also with blur function. It is also possible to incorporate clipart or accompanying text into videos.
Nero PhotoSnap now offers LUT support with import and application, an advanced text editor with font keeper selection and a clipart library. Nero PhotoSnap offers photo editing options such as adjusting brightness, temperature, saturation, and more. Simply get more out of your own photos.
Nero Video now makes it easy to share templates for video editing and provides updates to current templates. The mentioned Nero Motion Tracker can be launched from Nero Video if you want to start tracking an object. It doesn't have to be a moving face or a car, you can also track other moving objects.
Nero Recode expands subtitle support and compatibility with various subtitle formats, allowing viewers to watch videos with subtitles on any platform. Nero Recode offers an easy-to-edit dashboard for uploading and setting subtitles. As for subtitles, the program supports the most popular formats, but also SUB, ASS, VTT, SRT, and more. The Nero AI Video Acceleration NT now supports GeForce RTX 40 GPUs.
Nero Duplicate Manager – the new AI model improves the recognition of similar photos, making them even more accurate and efficient. In addition, the program now supports the RAW format. With the new photo features, Nero DuplicateManager now supports the detection of duplicate photos even better in order to save storage space accordingly.
Nero Platinum Suite 2024 at an introductory price as a subscription or perpetual license version
If you want to find out more about Nero Platinum Suite 2024, you can find all the information here at Nero.
Addition: there is also a small video about the new features and in addition, you can currently get Nero Platinum Suite 2024 at the introductory price of 42.95 instead of 49.95 in the annual subscription.
Alternatively, Nero Platinum Suite 2024 is also available as a perpetual license, currently for 99.95 instead of 139.95 euros. But then without ongoing updates, which may arise after purchase. Of course, the above new features would be included.
Prices i this article are in Euro, but the prices in other currencies are similar