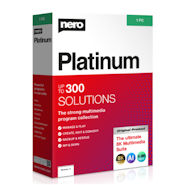 Nero Platinum 2023 is here! Nero Platinum Suite has been one of the most popular burning programs for many years and has evolved over time into a very comprehensive multimedia suite with photo management, video software and editing, music management and editing, data security & backup, PC tuning and much more.
The latest generation Nero Platinum 2023 now offers numerous innovations. I have summarized  the most important innovations of the new version of Nero Platinum Suite. Exciting new functions to keep an eye on. If you are looking for an overview of which programs Nero Platinum Suite 2023 contains and what they offer you, I have compiled my experiences about Nero Platinum Suite here for you.
What's new in Nero Platinum Suite 2023
Support 8K HEVC in Nero Video
Nero Video supports 8K videos and here they have added the new video compression standard HECV: HEVC Ultra HD 8K MP4 video editing, export format conversion. HECV should be 200% more efficient than 200% H.264 with 40% smaller output files.
Nero Recode supports H.265-HECV
Nero Recode now includes H.265-HECV, a new codec that provides 50% better data compression than its predecessor. This efficient codec makes snapshots on the go with high-quality mobile devices much easier and more accessible.
Motion tracking in Nero Video
The new motion tracking feature is very useful, for example, if you want to blur people or objects in your video. A useful feature for licensing or data protection reasons for example. The application should be very simple via the new Nero MotionTracker.
New Image Upscaler 2.0
Nero Image Upscaler 2.0 offers a new option to upscale images even sharper. There are four new AI models (Fast, Cartoon, Standard, and Photo) for up to 4x magnification.
Also new is the ability to conveniently upload multiple files simultaneously from local directories to Google Drive. Also new GPU acceleration for a more pleasant experience, such as when zooming in images.
Nero MediaHome, AI Photo Tagger and Nero Duplicate Manager with HEIF/Heic support
This fits perfectly for all iPhone users, who can now easily open and process the popular HEIF format used there not only on a Mac, but also with the mentioned Nero tools.
A-B Repeat Playback in Nero MediaHome
A-B Repeat Playback in Nero MediHome is an interesting name and a feature that should help you learn if you want to run certain video sections repeatedly for better memorization of the content. You can simply select certain sections A and B, which then run in an endless loop.
Lyric Support in Nero Media Home
Speaks for itself: Nero Media Home offers to download and play lyrics of songs. Ideal for those who want to deal intensively with a song or maybe even want to sing along. Have fun.
Nero Score with Disc Speed Test
A feature for those who want to intensively measure the write and read speeds of their data drive.
3D Rendering Test in Nero Score
A 3D rendering test based on DirectX 11 for all those who want to test what the built-in graphics unit does.
New: Nero Platinum 2023 includes PhotoSnap 2.0 (new version)
Version 2.0 of PhotoSnap is now released. Nero has listened to its users and worked on the previous import restrictions. The new version can now import up to 200 photos at once. But there are also new filters to optimize or beautify your own photos.
Nero Platinum 2023 with exciting new features
These are the innovations in Nero Platinum Suite 2023 that have now been noticed. However, these new features do not have to be complete, so there may be more to discover in the new version of Nero Platinum Suite 2023.
The new functions and improvements mentioned here already sound very promising and are worth to look for. At the same time, you can also take a look at the complete scope of programs and possibilities offered by Nero Platinum Suite 2023.
As usual, you can buy Nero Platinum as an annual subscription or as an unlimited version. If you want to have the latest version on a regular basis anyway, the subscription version is cheaper, but Nero gives the user the freedom to choose which model he prefers.
More information about the new Nero Platinum Suite 2023 can be found here at Nero (currently also available at introductory price)