The burning software and multimedia suite Nero Platinum Suite has been one of the most popular programs among many users for many years. Smartphone fever or any other zeitgeist have not changed that. This is no wonder, because working on a real PC with a larger display, when organizing photos, backing up data or editing videos, is simply more fun than swiping on a small smartphone display. Smartphones also have their tasks and provide us with the photos and videos, but when it comes to processing these, productivity is with a program like Nero much higher.
I took a closer look at Nero Platinum Suite 2023 and give you a brief impression of the programs it contains and there are some. Therefore, here really only a short evaluation. At least 20 programs are included in Nero Platinum Suite, so there's a lot to discover. But if you are particularly interested in the new features in Nero Platinum Suite 2023, I have summarized them here for you.
In general: there are more complex solutions in the detail area, such as video editing, and Nero Platinum Suite does not replace full-blown image editing, but sometimes simpler may be better.
What's included in Nero Platinum Suite 2023
Nero Start – all Nero Platinum Suite programs at your fingertips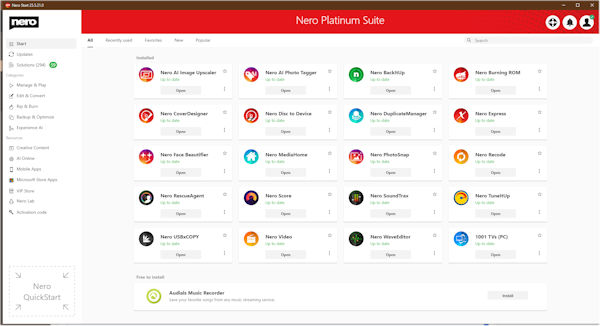 Very successful is Nero Start, i.e. the interface with which you can start and update all Nero programs. Nero Start is easy to use, clear and offers different ways to complete a task. You can start programs directly or you can have the appropriate program suggested via "Solutions", such as "Create a wedding movie".
Nero Start also provides access to templates, the path to additional mobile apps, and more. Under VIP Store, for example, you can find offers for third-party software. Nero Start gives Nero Platinum Suite a very positive first encounter right away
Nero Platinum Suite 2023 AI Image Upscaler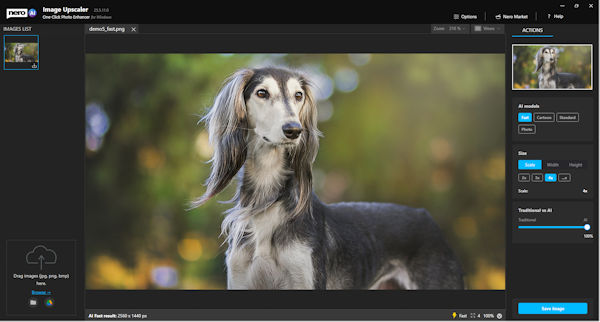 The program promises the high-quality upscaling of photos, whereby you can switch between AI and classic methods in several stages and variants.
The Nero AI Image Upscaler does a pretty good job in the end, but the program is also very computationally intensive, so you should make sure that the source image is not already very large, but then you would not need the tool. Useful if you want to have a higher resolution image for any project without much loss of quality.
Nero AI Photo Tagger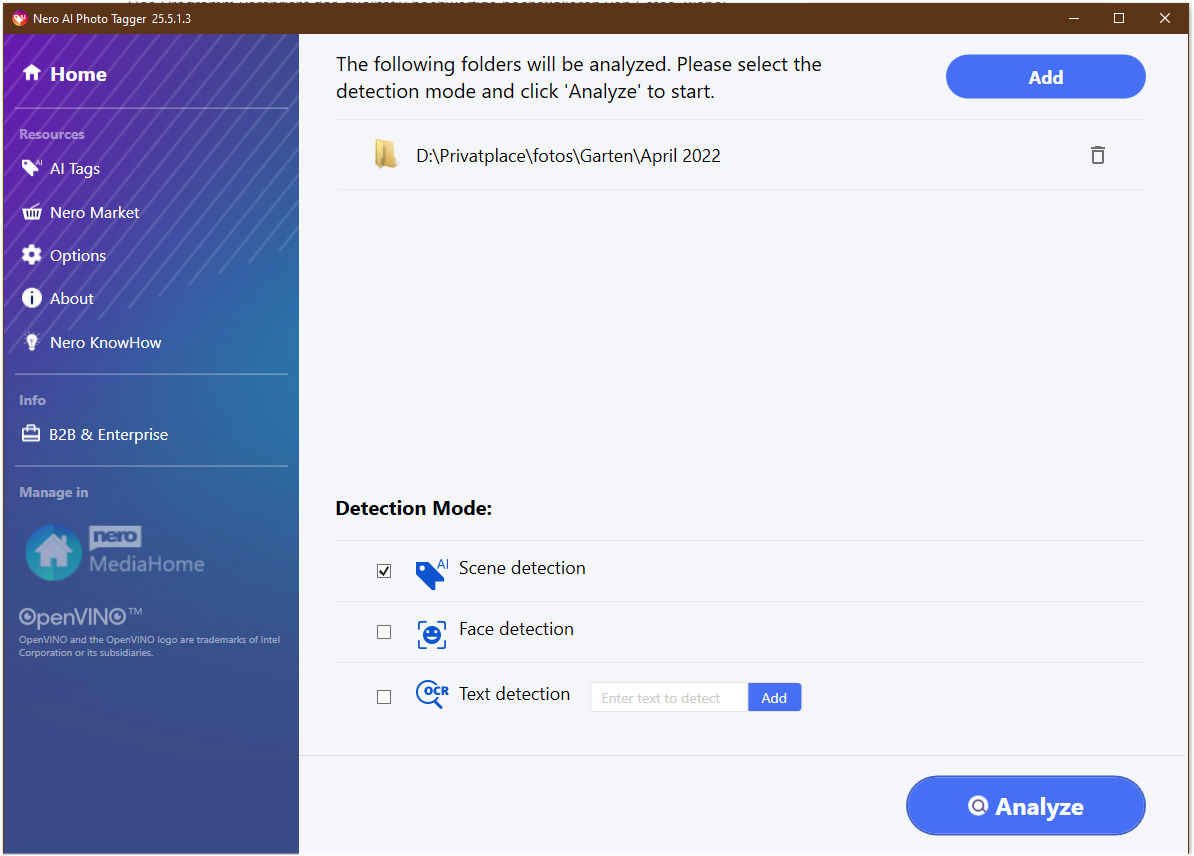 The Nero AI Photo Tagger analyzes AI-based photos for certain characteristics such as faces or scenes and assigns appropriate tags to the photos, such as forest, tree and hiking in the case of a landscape. Then you can save these tags in the photos (JPG).
This also runs quite fast and does not work badly. So if you want to assign tags to many photos at once, you benefit here. Via the tag selection you can also quickly select photos. An interesting and well-functioning program.
Nero BackItUp
Nero BackItUp is of course a backup program. The program surprises with a very clear greeting: Backup, restore and mobile backup, the latter requires you to connect your mobile device. Nero BackItUp supports both local drives and cloud storage for backup, with a wide range of choices. Not only OneDrive or Google, but also Nextcloud, Strato, 1&1 and others.
Basically, when saving, you have the choice between Local Copy, Local Snapshot (here files with different date stamps are saved, so that you can retrieve a certain version if necessary) or Synchronize, which is then done on both sides between source and destination. Useful when exchanging files from different computers.
In the next step, Nero automatically selects directories containing photos, videos, music and documents. Alternatively, you can also individually select from entire hard disks to individual directories what should be backed up. Then select the storage location: Local drive, external hard drive or network.
In the last step, you determine whether you want to define a specific schedule for a backup or start a backup manually.
Nero BackItUp is very easy to use and allows you to back up and restore everything you really need. Cloud storage is also generous. It makes a good impression.
Nero Cover Designer
From its origin Nero is a burning software and there is also a cover. designer for creating cases for DVDs and CDs in various forms. The many templates make it easy and with the tools such as text, lines, shapes, etc. you can easily create appealing covers.
In contrast to many other Nero programs, everything in a rather classic Windows software environment, but this does not diminish the purpose. The program is certainly useful if you want to create your own covers and belongs to a burning software like Nero.
Nero Disc To Device
A small software to move videos and music in improved quality from disc to mobile device, cloud or computer. Requires a disc, of course. There are notebooks without a DVD drive, here you just get an external DVD drive. Nero Disc To Device will certainly be a useful little tool for one or the other user.
Nero DuplicateManager
Beim Nero DuplicateManager wählt man ein Verzeichnis mit Fotos und das Programm analysiert anschließend, welche Fotos praktisch identisch sind. Die Ergebnisse werden übersichtlich präsentiert mit der Möglichkeit Duplikate zu löschen. Ein wie ich finde, sehr nützliches Programm, denn wer unterwegs Foto schießt, der neigt dazu oft zu klicken, mindestens, seit es Smartphones gibt,
As a result, motifs are quickly repeated, which firstly creates disorder and secondly unnecessarily occupies memory. Nero DuplicateManager distinguishes between identical and similar recognition, with similar the differences between the photos are greater. Nero DuplicateManager is a fast and very useful program with real utility value, because selecting identical or similar photos all manually is time-consuming. The program makes life easier.
Nero Express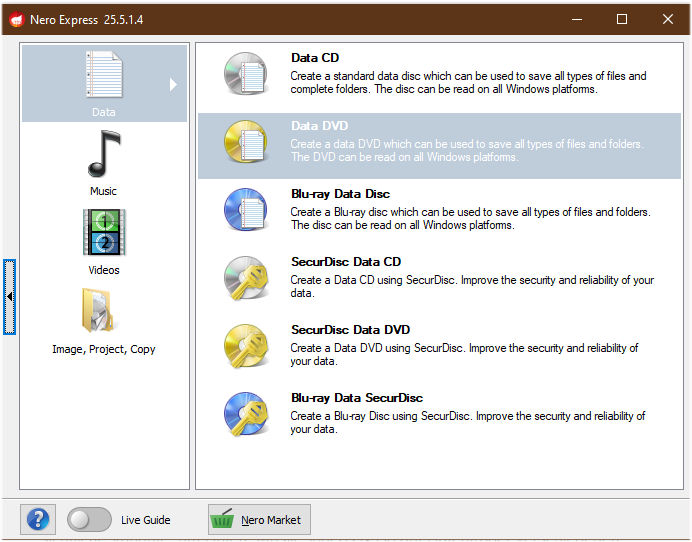 Nero is still a burning software. Nero Express is the fast, clear way to burn data, music, videos & Co to data carriers of various formats including Blu-ray, each according to the type of data, such as film or audio. Nero Express is simply the fast, clear way to burn data to CD & Co. Burning is Nero's core competence and the program can do that accordingly.
Nero Face Beautifier
The name says it all at Nero Face Beautifier, a program to optimize faces. This does not make the program bad and if you just want to spice up a face quickly, you can use the program for a quick solution. Of course, it does not replace image editing, but for in between the program is a nice extra, but not much more.
Nero Media Home
Nero Media Home organizes photos, pictures, music and movies with a small built-in image processing and also the possibility to burn data immediately. Nero Media Home offers extensive possibilities to organize, categorize and rate photos & Co. A very useful program that you have to deal with a bit in order to develop your own concepts for order. For example, you can filter photos by time or day (this is also where the Nero AI Photo Tagger comes into play), faces or location and much more.
Nero Media Home needs some time the first time to scan the computer for photos and more, but then a very useful program to bring order to its media landscape. Nero Media Home also supports cloud storage, but you can also limit the use to local drives.
Nero Media Home is useful and there is a lot to discover. The first scan takes some time, but afterwards the program works quite quickly.
Nero PhotoSnap
Nero PhotoSnap is a one-click photo editor. It is not intended to replace a program like Photoshop, but should allow users to easily and quickly optimize or adjust photos and images. For this purpose, it provides various filters such as cooling, removing veils, etc., which can be used with different intensity.
The 1-click operations do have an effect. Here you can just play around a bit, without any complicated sliders, until you get the result that does more justice to the photo.
Nice to have, unproblematic to use.
Nero Recode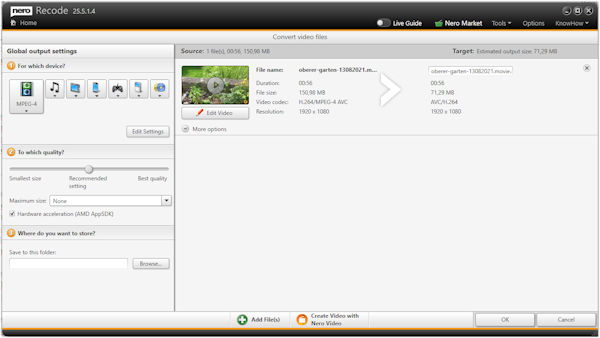 Nero Recode is likely to be an important program for many users with which media files can be recoded, so that they can be optimally played back with the appropriate format on another device, for example.
Nero Recode can also be used to rip DVD or Blu-ray videos, as long as they are not copy-protected, whereby subtitles and audio tracks can be removed if not required. Useful if you want to build your own media server and the video formats to be created should be optimally adapted to the hardware. Nero Recode can also optimize quality.
Nero Recode is certainly an extremely useful program for ripping DVD & Co as well as converting video files. It is also quite easy to use.
Nero Rescue Agent
Nero Rescue Agent can be the rescuer in distress when you want to recover files from hard drives, CDs, DVDs and USB sticks. Be it because deleted accidentally or because the disk has errors. You don't need a program like Nero Rescue Agent every day, but when you have it, you appreciate it.
Nero Score
Nero Score is a benchmark test and ranks performance against other computers. It's just nice to know how your own notebook or PC performs.
Nero SoundTrax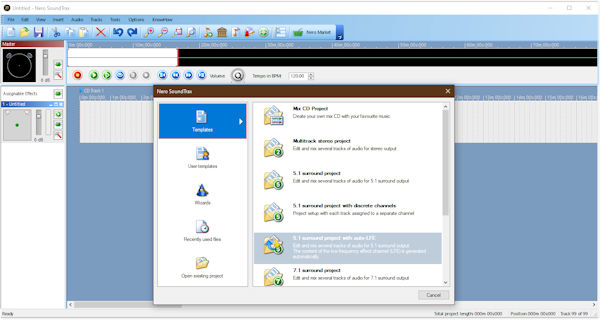 Nero SoundTrax allows you to digitize analog music on LPs and cassettes, but you can also realize other music projects. There is a sequencer for your own remixes and mashups, there are effects, a speech synthesizer and much more. You can easily use the program to create your own music CD, 5.1 and 7.1 surround projects and much more.
You can easily use the program to create your own music CD, 5.1 and 7.1 surround projects and much more. I have not tested the program in detail yet, but it makes a very nice impression if you want to put together your own music CDs from analog or other sources or even want to spice them up.
Nero TuneItUp
Another program to optimize the PC, was my first thought. But Nero TuneItUp is nicely done. It helps you delete unnecessary files, optimize Windows startup, uninstall programs and also include a PrivacyShield to make Windows a little less curious and much more
Nero TuneItUp is very nicely done, very easy to use and useful to have in Nero Platinum Suite.
Nero USBxCopy
A program that can be used whenever it comes to formatting USB sticks and especially when you want to copy data. Nero USBxCopy can also create a Raspberry iOS or transfer an ISO file. A small, but possibly useful tool for everyday life, even if you could do most of it with Windows on-board tools. You can also transfer data to multiple storage media at once when connected.
Nero Video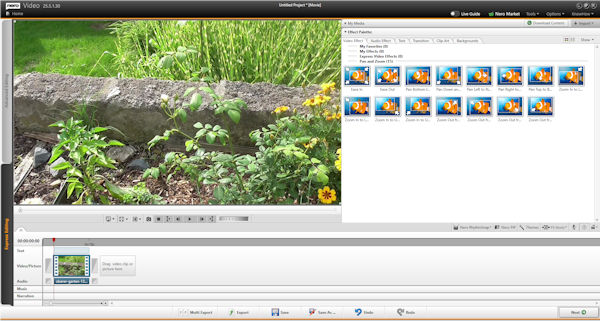 Nero Video is a video editing that cannot compete with specialized video editing programs in all details, but which surprised me positively. I actually like Nero Video very much, because the program is very easy to use, you get good results quickly and the program runs very smoothly even on an older test device.
For the implementation of your own videos, there are numerous suitable templates, for example with background music and titles. Likewise, you can cut videos, add effects, titles, etc. Nero Video also has other handy features, so the program can automatically adapt an audio clip to a video and much more.
Nero Video offers a lot to create attractive videos in an easy way. Controllable from the first moment and quite fluid. Some commercial programs can certainly do more in detail, but Nero Video actually offers everything that many users actually need and it runs smoothly and is easy to use. A very nice program.
Nero Wave Editor
Nero Wave Editor is an audio editing software to cut, optimize (volume, remove noise), add effects and much more. The program also offers a recording function. Numerous output audio formats such as NWF, FLAC, MP3, MP4, OGG, WMA or WAV are supported by Nero Wave Editor.
Audio editing software is always good and Nero Wave Editor offers a lot and is pleasant to use.
Nero Burning ROM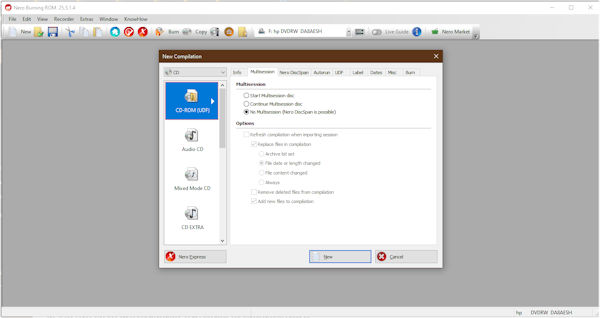 Nero Burning ROM is the origin and core of Nero software. You could write a book about it, but in short: you can burn all data in different formats to different media. It's just good, not much more to say about it, just good.
1001 TV
A small tool to mirror screen content to other devices, such as an Android smartphone, and you can also share files with a smartphone. Possibly useful for one or the other.
Nero Platinum Suite: Extensive multimedia and burning software with so much to discover
Nero Platinum Suite is simply an excellent collection of software that you can spend endless hours with. Most programs are very pleasant to use and have a manageable learning effort.
Some programs make more sense than others, but programs that you need less or not at all do not bother you, because there is definitely enough useful for every user to discover.
The individual programs certainly cannot compete with specialized programs in every discipline. But they don't have to, because this is not always needed. If I buy a special video software with which I need more time to edit my holiday video than my holiday actually lasted, then I may be wrong.
Sometimes you just need a manageable well-made solution that makes it easy and fun to achieve a good result with many possibilities.
If you are looking for a large software package to cut video, burn data of any kind to media, back up data, organize photos, rip or edit audio files and so much more, Nero Platinum Suite is a software package with which many things are possible and with which you can spend many hours.
More information and current offers for Nero Platinum Suite can be found here at Nero Software
Nero Platinum Suite is available in many languages, including English, French, German, Chinese, Dutch, Turkish, Portuguese, Spanish, Italian, Swedish and more.