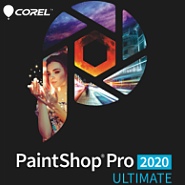 Today Corel have released PaintShop Pro 2020 Ultimate. Not only does this classic image editing software swing into a new round, it also offers many new and interesting functions together with new extras in the Ultimate version. In addition to the main program PaintShop Pro, available in 32bit and/or 64bit version, the Ultimate version now includes the following programs:
GRFX Studio – thousands of popular photo effects
Parallels Toolbox™ – useful one-click tools
PhotoMirage Express ®™ – converts images into fascinating animations
Painter Essentials 6 ®™ – the small version of the reference program for painting programs
Corel AfterShot 3 ® – professional RAW image editing, slightly slimmed down version
Corel Creative Collection – dozens of brushes and structures and over 100 royalty-free backgrounds
Although these are partially somewhat slimmed-down versions of the respective full versions, all programs offer more than worthwhile added value.
In general, Corel has focused on a "smarter, faster and more versatile" PaintShop Pro 2020. In addition to the innovations I will mention in this article Corel has also taken up a lot of feedback from users, be it for quality and/or function improvements. For example, the optimized sharpening/blur tool. So my list of innovations is not necessarily complete, but lists the main highlights.
We have now had PaintShop Pro 2020 Ultimate installed for a few days and are so positively impressed by both the trouble-free installation and the stability together with the new features that provide real added value.
Top Highlights of the New Version Corel PaintShop Pro 2020 Ultimate
The New Photography Workspace
If you're searching for a photo editing software with touch function then you're in the right place with the new "Photography Workspace."
This enhanced workspace complements the Essentials and Complete workspaces and offers functionality primarily focused on photo editing. What's more, it's been updated for touch-control compatibility and operation.
In this workspace you can find the most important basic functions of photo editing and correction tools, many of them in one step. Emphasis is given here also to a good selection of 1-click correction tools.
You'll find essential functions such as brightness/contrast, sharpness, fill lights, white balance, cropping, etc., but also a collection of immediately applicable effects. The photography workspace is spacious and very well layed out, so that you can easily edit photos on tablets, 2in1 or convertible using touch operation. A worthwhile new workspace for convenient photo editing via one-click optimization. It can, of course, also be used in a classic way by mouse.
Optimized: Revised text tool
The text tool on PaintShop Pro has been significantly revised and now works noticeably many times faster. So if you've grumbled and complained about the inertia of PSP on this point, you can look forward to the new release. This new version makes working with text not only much faster but also smoother be it by insertion, editing or wrapping.
Faster: Pic-to-Painting
Pic-to-Painting, an ingenious AI-based plugin that converts images into artistic paintings in a range of predefined styles, is now said to have become faster.
SmartClone
A nice new tool for skilled and fine cloning. Here you can choose between standard application or blending, which cloned areas are to be seamlessly blended with the background. SmartClone has been added to the tool palette and therefore easily accessible, various options for fine adjusting are available in the tool options palette. Your own clone selections can be saved as presets for later use on other images, which further extends creative potential.
Creative Content
PaintShop Pro now offers a wider variety of new painting and drawing tools such as brushes, color palettes, gradients and textures for even more new creative options.
Layers Enhancements
Defined layer styles can now be transferred/copied thus making it possible copy already defined styles across open images and significantly speed up workflow.
Refine Brush
With the new refine brush, you have a new tool that allows particularly sensitive elements such as hair, whiskers and similar fine detail elements to be released very precisely and accurately. This new function can be found in the selection tool set. The refine brush comes with many adjustment options, with which you can adjust the use & display. The result can be defined as a new layer as well as a "simple" selection. It's worth experimenting with.
In addition, there are details and optimizations that make PaintShop Pro 2020 Ultimate a very successful and worthwhile update in my opinion. The software is, of course, also very exciting for newcomers. If you are looking for comprehensive photo and image processing with integrated management functions, including complex tagging, and this at a one-time price without monthly follow-up costs, PaintShop Pro can only be recommended. Whether fast photo optimization or complex graphics editing, intricate collages, import & editing RAW images or creating animations and much more, PaintShop Pro offers a lot of variety and creative freedom.
There is no doubt that, for newcomers to the topic, the software has a certain learning curve due to its range of functions. However, this is quite manageable, especially since Corel supplies users with extensive auxiliary materials. Often, however, the integrated quick help of the learning studio in the program is already enough to answer questions. The help files are also always on hand, even without having to be online – which I personally find super. In addition, PaintShop Pro can be functionally extended at any time through a great selection of extra plugins, scripts and applications.
PaintShop Pro 2020 Ultimate is available in various languages, including German and English and costs regular as an upgrade $ 79.99 / £ 69.99 / € 69.99 / ¥ 9.504, for new users $ 99.99 / £ 89.99 / € 89.99 / ¥ 13.824, which is a very good price given the performance and the exciting extras. No subscription! Each license can be used for an unlimited period of time without monthly follow-up costs. There are special licensing options for business users with volume licenses and educational institutions. PaintShop Pro can be used both privately and commercially. You can also get PaintShop Pro 2020 without the extra tools which costs a bit less.
More information and ordering of PaintShop Pro 2020 Family can be found here at Corel
Our special thanks go to the press agency 4edition as well as the Corel Corporation for the pre-provided materials and the very nice pre-presentation of the new version Corel PaintShop Pro 2020 Ultimate.