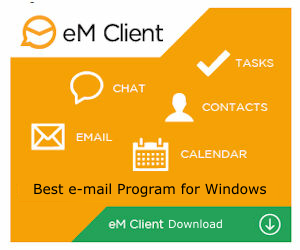 When it comes to business communication with clients we need a reliable e-mail and communication software. A very interesting program which offers a great number of functions for mailing and planning is eM Client. Unlike Outlook with Office 365 eM Client isn't subscription based. A software license is purchased, for a very reasonable price, to use it as long as you want.
eM Client targets private users but predominantly business users. It has all the features that professionals, e.g. web and graphic designers, need to organize their communication, contacts, meetings, ideas and appointments together with many useful extras like integrated live backup. eM Client has a very clean and easy to use interface which doesn't require a high learning curve.
Despite the many additional functions, the main focus of eM Client is naturally e-mail functionality. It offers everything expected from such a program plus more. It works with classic pop 3 accounts, with SMTP, IMAP and also with GMail accounts including calender, events and to-do synchronization. For those running a bigger company you can also profit from a central administration of desktop clients, shared inboxes, calendars and more.
Rich in Features and Fast
eM Client offers so many useful features that i can only pick out a portion of which I experience as very useful and important on so many business days. eM Client allows you to individualize the program interface, to send mass mailings and to simultaneously search parallel multiple e-mail accounts at high speed. The search function of eM Client is extremely fast, an important feature that you'll love when you need to find important information fast on very busy days. Another great feature is the so called "Smart Folders" which allows you to synthesize e-mails from different accounts; very useful for image projects when different accounts are involved.
For creatives and modern business people the world is a big place, we have contacts with people from an increasing number of different countries. Not all of them may speak our native language, or at least they would prefer to use their mother tongue, but this isn't reason enough to give up because eM Client has a automatic e-mail translation function already built in.
If you drive intensive communications with clients and/or partners you'll love the possibility to group e-mails into conversations. If you write an extensive amount of e-mails the quick text function for inserting frequently used phrases will save you loads of time. Another very useful function is the ability for delayed e-mail sending.
Works in Offline Mode when there is no Internet Connection
Today, we're used to being always connected, at least until there's a problem or we cross into a region where no internet, or even mobile connection, is available. Under such conditions, eM Client allows you to work offline, meaning: everything you do will be executed as soon as you hit the next available connection. So, here are no excuses not to continue with your work.
If encryption is an important or necessary feature for you, you'll be happy to learn that eM client supports PGP which requires that both sender and receiver use PGP. Another great security feature is "Live Backup", so that even if something happens you'll always have a fresh backup at the ready. Live Backup runs even if the program is running but like any good back-up, it doesn't disturb program usage.
The dockable sidebar allows you fast access to quickly add tasks and also displays useful information pertaining to the presently open e-mail including a quick view of all attachments exchanged with the aligned contact. All these functions help you to work faster and more efficiently. Generally, eM Client is a very well thought out e-mail program that supports and assists you to improve your daily work flow.
Still Want More Features? Here are Just a Few Further Features:
Basic functions for embedding images including auto-resize and rotation
Hyperlink preview in chats
Feature rich table editor for e-mails
Touch support, making it easy to use with (Windows) tablet PCs, 2in1 devices or 360° Convertibles
Easy and comfortable set up of signatures and templates
Flag assignment of e-mails
Connection and synchronization features with iCloud, Office 365, Gmail, Microsoft Exchange, IceWarp Mail Server or Apple Server.
Great print previews
and then still more
eM Client supports data import from other well-know e-mail programs like Microsoft Outlook, Outlook Express, Windows Mail, Windows Live Mail, Thunderbird, The Bat and others, so that you can switch to eM Client and still use your existing data.
Calendar, Tasks and Notes – More than just an E-mail Software
eM Client offers impressive e-mail functionality but also a very nice customizable appointments calendar with different calendar views and an easy to use reminder function. Calendar data can be also be synchronized with online services like Gmail or iCloud. It also supports meetings features, for example invitations and confirmations.
You will also find a professional task management function and a fully featured contact management section, including attachment history and notes – so there is everything available for communicating with others on a highly professional level, to plan your work, schedule meetings and events and to keep track of your to-do's and notes.
As you've probably noticed by now, eM Client is more than just an e-mail program, it is a fully featured communication software which supports you not only with your daily communication but also with that all important work flow. It makes it easy to plan your work, to keep track of events and meetings and to store your notes and thoughts easily and fast with the aid of the notes function. All of these functions are available in an easy to use way.
Beside the commercial version there is also a free version available which is limited to 2 accounts (no support included.) But as eM Client is already reasonably priced I would recommend investing in the pro version. If you need more than one license for your company you can also profit from huge discounts.
Based on my long time use, I can say that my experience of eM Client is that of a very fast and stable program, also an important feature as you can't allow the loss of important data. It is easy to learn, user friendly and offers many time saving and useful features to support your daily work. You can find more information and download a test version here.
eM Client Screeshots © eM Client Inc.