MindManager Coupon: Save 10% on the well-known extensive creative visualization and mind mapping software MindManager from now until November 13, 2023.
MindManager: Comprehensive mind mapping software with many creative and productive applications
MindManager is, as I find not only an extremely creative and productive program, to capture, structure and last but not least visualize thoughts, ideas, projects and visions with the help of simple or complex organizational structures such as flowcharts, tree-style mind maps, timelines, Venn diagrams and many more.
The used elements and shapes of different kinds can be freely linked by the user in his tree, diagram or a mind map. Users can add, move or remove new elements at any time to adapt their own mind map running processes. In addition, a variety of markers and tags are available to the user for the individual elements in a mind map.
With these you can assign priority, progress, risk, pros, cons and much more, so that every mind map and diagram can be filled with life, which describes the current state of a project or train of thought. Documents, notes & comments and much more can also be linked to elements, so that your own structure can be enriched with information that users, even in the team, can access at any time.
Perfect for plans & projects with an eye on progress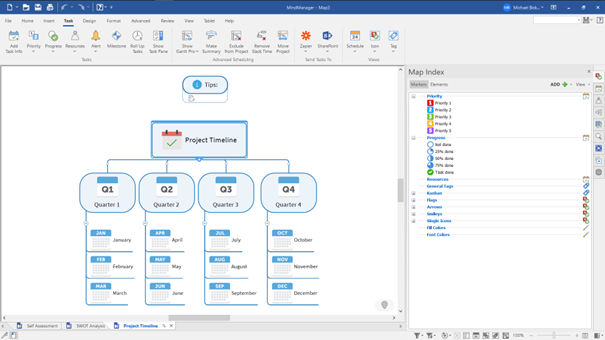 MindManager is not only suitable for the classic mind map, but also for the visualization of plans and projects. You can also create tasks and organize them by categories, assign resources and then progress markers and tags, so you always have an eye on the progress of a project.
MindManager offers numerous, very professional templates for the comfortable start of new projects and diagrams. These allow the presentation of a project management plan as well as the development of a strategy plan, financial analyses (MindManager can also calculate and formulas), the planning of a business concept or to plan a meeting and so much more, so that many business processes, but also thought processes and more can be visualized.
MindManager helps to map all these processes clearly and at the same time it makes even complex business processes understandable.  Last but not least, visualization also releases new ideas and thoughts that might not have been realized without visualization.
MindManager Professional templates for diagrams and MindMaps
MindManager opens up a wealth of application possibilities for the user and supports the user with numerous templates for a wide variety of visualizations.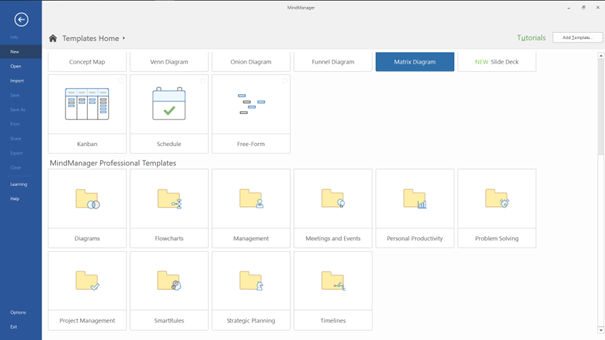 Despite all the complexity of MindManager, the operation is still comparatively simple at the same time, whereby MindManager naturally requires a certain amount of learning effort when getting started, which is due to the extensive functions alone. The operating concept of the program is strongly based on Microsoft Office and can also interact with it in many areas.
Among other things, import and export from and to Microsoft Project, Word and Excel as well as synchronization with SharePoint and Outlook with MindManager is possible.
MindManager is available as a one-time purchase version as well as a subscription version or 365-day version, whereby the latter can have valuable advantages, especially in the area of cooperation. In the 365-day version, for example, you get co-editing functions that allow colleagues to collaborate on a map across departments, offices and time zones.
Plus point for the subscription version: Collaboration tools
These collaboration tools make it possible to brainstorm together or collaborate on a business idea, project, and more, regardless of the location of each team member.
MindManager as a subscription version is also flexible, because the program can be used on Windows and Mac, in Microsoft Teams, on Chromebooks and on the web. Last but not least, you get ongoing upgrades to the latest versions automatically.
MindManager Coupon: MindManager offer with 10% discount
MindManager is certainly one of the most ingenious programs in the field of creativity in everyday business. It simply facilitates the capture of thoughts, the visualization of projects, plans, meetings, business concepts, financial analysis and many more and makes all these processes visible.
MindManager does not place enormous demands on hardware. Up-to-date hardware that runs typical Office applications will usually suffice.
More information about MindManager and the offer can be found here
The MindManager offer or the MindManager voucher is valid until November 13, 2023. The voucher is valid for both the subscription version and the one-time version