C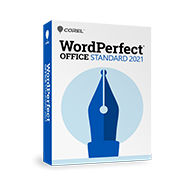 orel WordPerfect Office Standard and Corel WordPerfect Office Professional are currently available again with a 30% discount here at Corel, which means a worthwhile discount.
WordPerfect Office is not one of the dominant programs on the office market, at least on the German market, but this may look different in some English-speaking countries. But WordPerfect certainly still has its fans, as the number of views of articles about WordPerfect shows. Be it because you simply appreciate the classic, or because you need it for compatibility purposes.
The program is only offered with an English user language, which you should know if you have another language as your native language and do not speak English very well.
What's included in WordPerfect Office Suite
WordPerfect Office consists of the word processor WordPerfect, the spreadsheet Quattro Pro, the presentation software Presentations, WordPerfect Lightning for collecting and organizing text and images, and there is also the RAW photo editing software After Shot 3. The same applies to Quattro Pro, which was once developed by Borland. Those were other times, some may remember.
What's new in WordPerfect Office
Now includes the Oxford Concise Dictionary
Improved compatibility with Microsoft Office.
A built-in way to submit suggestions for improvement and ideas for the further development of WordPerfect.
An improved search in Quattro Pro.
Improved stability and performance.
Improved PDF import, especially if the PDF document contains many images.
Improved Find & Replace function.
The static information on documents has also been improved.
Corel WordPerfect Black Friday Offer
If you are interested in WordPerfect Office Standard or the extended Pro version, you will find all information about the Office Suite and the offer here, as I said: for a short time with 30% discount as Corel Black Friday pre-offer
There are also other Black Friday offers on Corel products, including PaintShop Pro, CorelDRAW, Painter, Corel VideoStudio, CorelCAD, and more.