Corel has released a new version of its popular painting software Painter 2023. For many, the reference program when it comes to digital painting and drawing. In the latest version, a lot revolves around the topic of creativity and speed. Painter 2023 offers accelerated workflows and new creative tools to help users create extraordinary works.
Painter 2023 also responds to the most important wishes of its users and, according to Corel, offers "an indispensable upgrade that expands the creative possibilities with the new Fluid Paint technology, an improved selection workflow and the new color selection control".
Whether you are a private artists or a professional user, the new version brings you exciting new user-requested improvements to key features that Painter 2023 brings to a groundbreaking digital art studio that makes it faster and easier for users to realize creative vision.
Painter® is exactly the program for many artists when it comes to achieving realistic hand-painted results. No matter if the industry or the artist's theme is in the field of entertainment, illustration, photography, manga, visual arts or something else.
This is new in Painter® 2023!
Create the smoothest strokes with the new Fluid Paint
The new Fluid Paint technology allows you to gently build, mix, model, glaze, add textures and reflective light, and you can enjoy unsurpassed opacity control and smoothness in every brush stroke. Designed to take advantage of layer transparency, Fluid Paint allows you to gently build and combine colors with reduced swab or stroke overlap.
In a simple way, the user can create color in ultra-smooth strokes and mix them, thereby forming composition with greater control and revealing more or less grain. Painting can thus be given a structural interest.
These brushes are very versatile and powerful, addressing pain points for comic, concept, and storyboard artists trying to build up soft transparency, engage in hyper-smooth airbrushing or glazing, and help traditional artists achieve a more natural blend with wet and oily textures.
Repaint, edit, and adjust faster with improved selections
Artists enjoy a more intuitive selection workflow with improved visibility of selected areas, can drive critical controls and improve the most commonly used selection tools.
A color overlay option has been added to the selection tools to improve the visibility of selected areas. Especially useful for a selection with very complex shapes and transparencies, the overlay helps to speed up the creation, editing and refinement of a selection.
Users can also customize overlays and save them as presets for specific projects. You can also adjust only the selection frame or only the overlay or both. A new cursor for lasso and polygonal helps with visualization and precise selection.
The new selection box speeds up workflows and provides quick access to all controls while performing selection-intensive tasks. The selection can be quickly adjusted with a handy slider in the properties bar, up to 2000px.
Users will also benefit from improved keyboard shortcuts in the new Painter 2023 to switch from the addition or subtractive selection mode. A selection is automatically applied when a mask is created, and several other improvements make the selection faster and more predictable.
Select areas based on color with brushes
Magic wand and the versatility of a selection brush can be combined to quickly select parts of an image based on color. The new color picker gives the user full control when swiping areas of the same color to create a selection that allows you to easily change colors, lighting, and adding textures or effects to the selected area.
Users can select a selection brush of any shape and enable the Color Picker option in the Properties bar, or simply use a ready-made color picker brush. Areas on the canvas can be selected based on color and you can capture more or less of an area by simply adjusting color and brightness tolerance with handy sliders.
Color picker brushes offer the ability to have both hard (aliased) and smooth (unaliast) edges, so you can work with artwork of different styles.
User-requested improvements in Painter 2023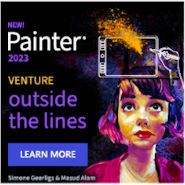 Painter 2023 takes direct requests from the Painter community and accelerates their workflow with a number of improvements and enhancements to many key features.
In the new version, artists can now enjoy easier image placement and centered alignment, improved responsiveness when using square brackets to resize brushes, magic wand, color bucket and eyedropper tools, remembering recently used settings, and precise gradient filling tools for an unforgettable painting experience.
More information about the new Corel Painter 2023 version can be found here at Corel
Source & Screenshots: Corel Press Release