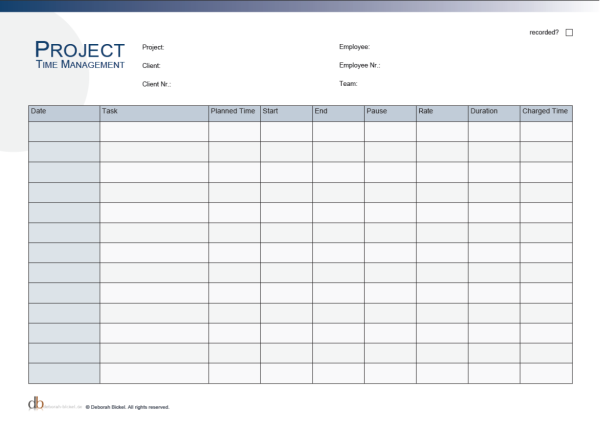 One of the best ways to manage your time efficiently is to record how much time you spend on specific projects, be it for work or in private. Design professionals are often caught up in multiple overlapping projects that make the management of time complicated and sometimes difficult to manage.
A good start to fine tuning your knowledge of "time needed/used" is simply to record it. This not only helps you to get your time paid but , after a short while, helps you to construct effective and more accurate estimates. Whilst many Apps on the market fill this need, some like a more traditional approach with old fashioned paper, so here we have it. Together with general inputs for project, employee and client names, I've created this Time Management form containing fields for:
Date
Task
Planned Time – how long you expect the job to take
Start and end times
Pause
Rate
Duration – for how long the job actually took
Charged Time – for how much time you are able to charge
A useful, traditional type of form to take with you. Downloads temporarily unavailable. 
File: Project-TimeManagement.zip (of Project-TimeManagement.pdf)
File Size: 39 Kb ( 36.4 Kb zipped download)
Author and Copyright: © Deborah Bickel. All rights reserved.