Free O&O Windows tools with high utility value! O&O has been a well-known provider for many years with proven programs and a clear focus on data backup and recovery, data security and data carriers. One of the best-known products is certainly the extensive backup software O&O DiskImage, which I also use with a high level of satisfaction.
O&O not only offers commercial products, which are also quite affordable, but also some valuable software tools for Windows with high utility value. Since you may overlook them or these free Windows tools from O&O may not be known to everyone, here is an overview with a short portrait. You can find detailed information about the tools on the individual O&O product pages.
What all these O&O tools have in common is that they
are free of charge
no installation required
do not need a registration with O&O
Made in Germany, EU
Free O&O Windows tools with high utility value at a glance
O&O ShutUp10 – Free AntiSpy Tool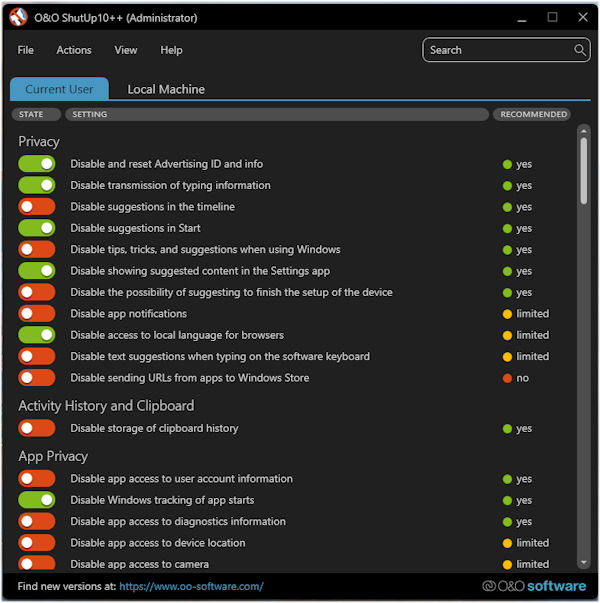 ShutUp10 is a regularly maintained program that allows the user to do something for their own data security and privacy. It bundles various setting options in a very clear way, with which you can significantly restrict the sending of data under Windows. This is especially important for Windows itself, but also Edge or Cortana is considered.
It is therefore a software with which you can specifically disable unwanted functions under Windows 10 and Windows 11 and at least limit the transfer of sensitive personal data to Microsoft.
O&O ShutUp also provides tips for the individual options as to whether deactivation is recommended or conditionally recommended.
With O&O ShutUp 10 you save yourself the way via registry keys or guidelines and you get various setting options clearly arranged in one place. Presumably, not all offered settings are accessible at all with Windows on-board tools and last but not least you notice one or the other "data transfer" or "access rights" by the program at all.
O&O ShutUp 10 should always be on your computer.
More information and download of O&O ShutUp 10 can be found here
O&O DeskInfo – System information directly on your desktop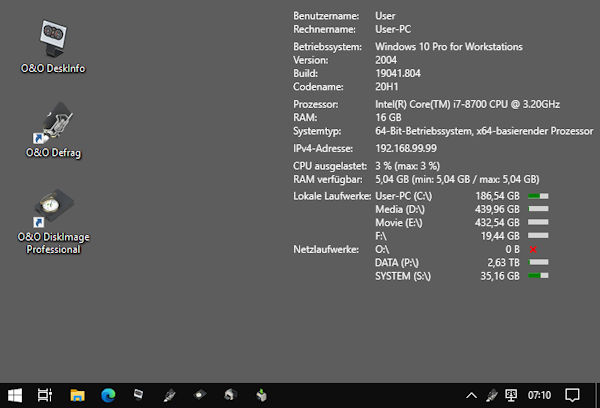 O&O DeskInfo is interesting if you want to take a simple look at system-relevant data, from built-in processors to memory usage to Windows product keys. O&O DeskInfo offers this information directly on the desktop, whereby you can influence the placement and design. If several monitors are connected, you can also specify on which monitor DeskInfo displays its information.
Last but not least, you can also easily copy the read information into the clipboard and from there into an e-mail. Useful if you need the information in a support case.
O&O DeskInfo is a small useful helper that shows its strengths in case of problems with the PC or even if you just want to take a look into the inner workings of the device.
More information about O&O DeskInfo can be found here
O&O Lanytix: – fast network analysis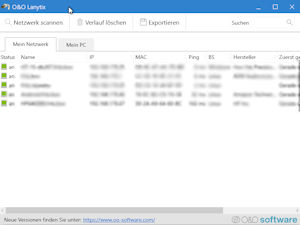 O&O Lanytix analyzes its own network to detect devices in this network. Windows itself shows the sometimes quite numerous devices that are connected to its own network, by no means always all. At the same time, however, it is important to know which devices, including smartphones, are actually connected to the network, also in order to be able to detect vulnerabilities and possible security gaps. O&O Lanytix:
lists all devices in its own network
displays IP address or MAC hardware addresses
and determines response times, operating system and the manufacturer of a network card
Even changes to device settings such as IP address are logged, just like a history of when a device was first detected and when it was last detected.
O&O Lanytix is therefore a very valuable helper in many situations, especially if you want to take a look at the devices actually connected to the network and for many users these are more devices than just notebooks & PCs.
Information and the download of O&O Lanytix can be found here
O&O AppBuster – detect and remove unnecessary apps under Windows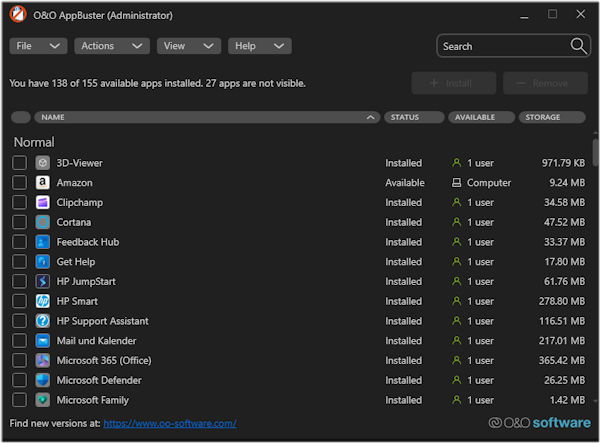 AppBuster is another of these fine O&O tools with very high utility value. AppBuster makes it possible to get an overview of which apps from Microsoft and third parties are installed on the system at all and, above all, it also enables the secure deletion of unnecessary apps. This is also the case if this is not possible with Windows on-board tools, not least not least all apps are not always displayed with on-board tools.
Windows apps can take up unnecessary space in the simplest case, but they may also negatively affect system startup and ongoing system performance, in the worst case, especially with third-party providers, these can even pose a security risk.
AppBuster gives the user an overview of useful and non-useful things, which can then be removed with the program. In the same way, you can also reinstall many apps with the program if you change your mind.
The program also displays hidden apps. It makes sense to use the built-in possibility to create a restore point before deleting in order to be able to undo changes if necessary.
O&O AppBuster also offers functions for sorting by type, system apps, framework apps, etc.
A clear, very easy to use program, which also deserves a place on your own computer.
O&O AppBuster is available here at O&O
O&O RegEditor
O&O RegEditor is a registry editor with slightly extended functions to the Windows Registry Editor, which offers:
A comfortable search function with hits in a list, extended compared to Windows on-board resources
Copy and paste of complete keys and subkeys as well as their values, which Windows cannot do
A comfortable search function with hits in a list, extended compared to Windows on-board resources
Copy and paste of complete keys and subkeys as well as their values, which Windows cannot do
the program can be used portably, for example on a USB stick
Creating, maintaining, importing and exporting favorites
Frequently used keys can be used as preset favorites
Export of favorites
Import and export REG files
Export of the entire registry in XML format
The O&O RegEditor does not list Windows 11 as a supported system, but presumably the program should also work with it.
More information about the O&O RegEditor can be found here.
Many useful O&O Windows tools
O&O offers some very useful little tools that have a high utility value for the user in practice. All these programs are free of charge, do not require installation, are usually portable and O&O does not expect to register with an e-mail to be able to use these programs.