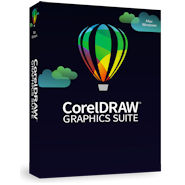 For the well-known graphics software CorelDRAW Graphics Suite, there is a new update available for those who have licensed the software in the subscription model. CorelDRAW is available both as a perpetual one-time version and as a subscription version. The latter contains some additional functions compared to the one-time purchase version, such as team collaboration. Real-time collaboration makes it easy for CorelDRAW users to collaborate with customers and teammates wherever they are. In addition, new features are regularly provided for subscribers in the subscription version. The one-time purchase version, on the other hand, is only updated at longer intervals.
What's new for CorelDRAW subscribers
Subscribers will receive the following improvements with the new update:
Curve graphics: Create seamless curves with the all-new "Variable Outline" – Tool
Color palettes: The latest Pantone colors are now available in CorelDRAW at no additional cost to all subscribers, ensuring colors are output correctly for printing. Important if created graphics or brochures, flyers & Co are to be printed.
Streamlined start: CorelDRAW users get even faster access to more than 200 design templates now available in CorelDRAW's cloud template library.
Personalized training: Individualized recommendations for exercises can allow designers to educate themselves according to their experience.
Improved performance: Based on user feedback, the overall quality and stability of CorelDRAW has been improved, enabling projects to be completed faster and more efficiently.
New CorelDRAW Graphics Suite 2023 also available for one-time purchase
I already mentioned that CorelDRAW is offered both in a subscription version with some advanced features and as a one-time purchase license. There is good news here, in addition to the update for the subscription version, CorelDRAW Graphics Suite 2023 is now a completely new updated version for all those who prefer to work with the one-time purchase version.
Apart from the extras of the subscription version, the new version CorelDRAW Graphics Suite contains essentially all the technical features that the subscription version has received in the last two years. For example, the new "Variable Outline" function for creating seamless curves and of course a lot more.
Detailed information about the new version CorelDRAW Graphics Suite and the differences between the subscription version and the one-time purchase license can be found here.