Safely removing unwanted software with Revo Uninstaller Pro not only ensures a clean system, but can also increase security. Windows offers on-board tools or most applications come with an uninstaller, but this does not always lead to success or all installation remnants are completely removed.
In addition, an uninstaller such as Revo Uninstaller Pro can:
Remove installations that were additionally installed by the original installer of a software without being asked, but were not removed during uninstallation. Reputable programs do not do this, but there are exceptions. Potentially, these additional installations can also be problematic from a security point of view.
Monitor and remove browser plugins: Browser plugins can sometimes be difficult to remove, sometimes they are not even displayed by the browser or system. Browser plugins offer a potential gateway for malware, so I avoid them.
Professional specialized tools such as Revo Uninstaller Pro often do an efficient and better job than the original installer or system.
Revo Uminstaller Pro is one of the best programs on the market and also gets very good reviews.
The software offers a wide range of functions and thus offers
Uninstalling software: To do this, Renovo Uninstaller first creates a restore point and a backup of the registry entries of the software to be uninstalled, then starts the actual uninstaller of the respective software and then searches for any file remnants and remaining registry entries. Whether you want to delete the last two groups, the user decides himself. The program makes all this quite fast and above all very transparent.
A "forced uninstallation", which can always be used if a software does not have an uninstaller or it fails. In addition, this function can also be used if an uninstall has left file remnants behind. Revo uses a well-fed database to identify them.
Very useful is the possibility to remove several programs in one go. Revo Uninstaller creates a backup of the registry entries, runs the software installer and then scans for file remnants. This is largely automatic, so that users do not have to intervene much themselves.
The use of the installation monitor is optimal. If you install software after the Revo Uninstaller is  already installed, this is recommended, because the installation guard records a detailed log with everything an installer does. This then facilitates a possible uninstallation later.
Windows Apps – View and remove apps and browser extensions. These are very important functions, because on the one hand some Windows apps can only be removed laboriously or not at all and I had already mentioned the browser extensions problem.
For all its features, Revo Uninstaller can  also access a large database of typical installation scenarios of many programs. These trace logs of installations were created by the Revo team using the real-time monitor. A valuable database.
With the installation log recorded on his own computer, the user can benefit greatly. Because not only does it allow you to understand what the installation programs have installed or entered into the registry, but you can also remove a software completely and controlled, for example if you want to get certain directories. Since the logs can also be imported and exported, they can also be exchanged with other computers. This is useful if you want to remove the same software on this computer, but no log file exists there.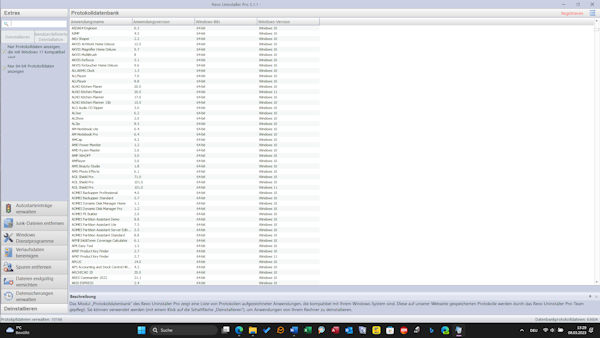 Safe is safe: Multi-layered backup before uninstallation
With all the quality of Revo Uninstaller,  an uninstall can theoretically cause a problem. Here, the multi-layered backup, which Revo Uninstaller creates, supports you from the registry, restore point, etc., so that you can undo everything if necessary.
Revo Uninstaller also offers some extras. Among them is the so-called Hunter mode, which supports you if you want to stop the automatic start of a program you do not know or remove an unknown program.
Last but not least, there are also some useful file tools to remove unnecessary files, securely delete files, permanently remove confidential data, and more.
Revo Uninstaller Pro – good reviews, thorough and pleasant to use
The Revo Uninstaller Pro gets quite good reviews and it also convinces me. He prays many functions around the complete deletion of programs, apps and browser extensions and can often help even if Windows on-board tools or installation programs can not help.  However, it is also able to find remaining registry entries, whereby deletion is optional. It may also find file remnants. It is quite amazing how unclean many uninstallers work, which is why it is no wonder that Windows PCs are really cluttered with time. The program not only contributes to a clean system, which sometimes runs faster, but it can also increase security, especially when programs & Co may not be quite as trustworthy.
Therefore, the Revo Uninstaller is  a highly recommended good program, which is also quite pleasant to use. A program of high quality, which actually belongs on every computer. The program is also well thought out and secured by previous backups.
Also available as portable version
Basically, there is also a free version of Revo Uninstaller, but here you do not get all the important worthwhile features, so basically the purchase of the full version is worthwhile. This is not subscription software, so you can use Revo Uninstaller indefinitely. Free updates are available up to 12 months after purchase. However, the program itself can also be used afterwards  .
When purchasing Revo Uninstaller Pro, you have the choice between a classic standard version, which is installed on a computer as usual, or a portable version. The latter is installed on a USB stick and can then be used on any computer of the user, without additional installation. The portable version is licensed according to the number of users, while the standard version is licensed according to the number of computers. A very fair offer.
More information about Revo Uninstaller Pro can be found here