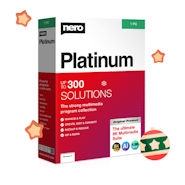 The Nero Platinum Christmas Bundle 2022 with many free programs is here. A good tradition of Nero, in winter there is usually a Christmas Bundle and in spring a Spring Bundle. Means, you get not only the big comprehensive multimedia software with Nero Burning ROM, Nero Video, Nero BackItUp and many more (at least 20), but also something on top and the list does not read badly.
Well, if you want to know what is included in Nero Platinum Suite, refer you to my detailed article "Nero Platinum Suite – what the popular burning software and multimedia suite offers" here.
Nero Platinum Christmas Package 2022 and what you get
With the Nero Platinum Christmas Package 2022 you get Nero Platinum Suite in the unlimited version as well as
3D Chess – a chess game for beginners and advanced, played in extraordinary places – perfect for those who like to play a game of chess in between
OnlineTV 18 – Receive and record over 1,000 radio and television stations on your laptop
O&O Safe Erase 17 Pro – often mentioned on my site. A popular and good program for securely erasing data.
Steganos Password Manager – the name says it all, the program is known without. Secure storage of passwords without backdoors, master passwords or duplicate keys from the well-known encryption specialist.
Abelssoft Easy PDF – a PDF editing program that has set itself the task of being easy to use.
OkayFreedom VPN Premium – a VPN tool.
Stellar Photo Recovery – a tool that helps in recovering lost and deleted photo, video and audio files from Windows devices.
Incomedia WebAnimator Plus – also mentioned many times by me. A very good program to create HTML5 and CSS web animations without the need for programming knowledge.
Video Capture Ultimate – a software to record videos when playing from the screen
Laplink PCmover Express
As you can see, a very interesting collection of attractive add-ons, which are available for free in the package in addition to Nero Platinum Suite 2023. Nero Platinum Suite 2023 itself as a license that can be used indefinitely. The Nero Platinum Suite 2023 Christmas Package costs 99.95 Euro (or similar in in other currencies). Nero Platinum Suite is available in many languages.
The Nero Platinum Suite Christmas Pack 2022 is available here at Nero