Avira Prime Black Friday offer: As part of this year's Black Friday offers, the comprehensive security solutions Avira Prime including VPN with 70% discount are now available directly and securely from Avira. The Avira Prime offer runs from 17 November to 29 November.
Avira Prime Back Friday Offer – Avira Prime 70% off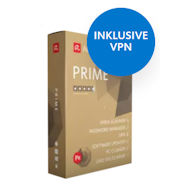 The time around Black Friday until Christmas also offers excellent opportunities in the software sector to get well-known software projects such as here from the field of antivirus, Internet security and VPN much cheaper. This is now usually over a longer period and by no means limited to just one day or one weekend.
Avira Prime is also there and from now on 70% cheaper. Avira Prime is the comprehensive suite for 5 devices with access to all Avira security solutions and tools. The Security Suite includes the actual Internet security software with protection against ransomware & viruses, real-time protection while browsing, etc., but there is more.
Avira Prime also includes a password manager and unlimited VPN. What you sometimes must buy separately for other products in this area is already included in Avira Prime. The security software provides protection not only for Windows, but also customized solutions for Mac and Android.
Thanks to the 70% discount on the Avira Black Friday offer until November 29, Avira Prime is now available for only € 29.95 instead of € 99.05 in the first year.
Avira Prime – Security at a glance
In addition to the features already mentioned, the Avira Prime offer also includes VIP support, useful in case of problems and in case of emergency. Avira Prime offers customized protection solutions for Mac, Android, iOS, but also for Windows-based notebooks & PCs, according to the requirements of the respective devices.
Avira Prime includes for Windows includes:
The antivirus solution with comprehensive protection against malware and all other online threats.
A password manager for secure and encrypted passwords that can still be used comfortably.
Unlimited VPN, which is highly recommended, at least when using open public Wi-Fi, but also when sensitive data is transmitted at home or in the home office.
PC-Cleaner to optimize Windows systems and speed up startup time.
Software to keep programs and drivers up to date – also important regarding possible security leaks of outdated programs
Windows Privacy Protection Software – a tool to set over 200 privacy settings on Windows.
For security for Android, iOS and Mac, solutions adapted to the requirements of the respective system are available.
For smartphones and tablet PCs with Android you can choose from: Antivirus Pro, Avira Optimizer Pro for optimization, Home Guard for vulnerability analysis of your own network, Phantom VPN Pro, Password Manager Pro and as a useful tool a QR Code Scanner.
Similar tools can be found for Mac and iOS. In addition, there are functions for browser protection, safe shopping and much more.
Grab your Avira Prime Black Friday Offer
If you want to protect yourself comprehensively, Avira Prime is a very interesting complete offer for the security of various end devices.
Avira Prime with 70% discount for 29,95 € directly and securely from the manufacturer
The price is valid for the first year. Offers valid until 29 November 2022